Wow Nearly April already!
Well I'm feeling much better health wise and enjoying my change of biscuits, thanks to Pero Super Sensitive, as you can see from my beach photo…I'M PERO POWERED!
Rescue Update;
Oscar the friendly black cat has been officially adopted by the nice lady who was fostering him. He is now living alongside another one of our long term older foster cats, Ernie. This happens quite a lot, the fosterer adopts their foster cat or dog, hence the Little Brown Dog Rescue is always looking for new short term fosterers, if you know of anyone, please ask them to contact the rescue.
The rescue has currently 4 cats ready for adoption to a forever home…
Timmy a 4 year old black and white cat, very affectionate BUT prefers human men to women. He will need to be a house cat as he has a Harvest mite allergy….perfect for a human with hay fever (as both need to stay indoors)
Smudge a 8 month tabby male is a friendly and cute.
Not forgetting Mr Cole and Mr Ben, they are still with us waiting for their forever home, both are very friendly and affectionate, would love outdoor space and can be rehomed together or separate.
I don't get it…why do you humans dismiss black or black and white cats? Surely it's their personality, temperaments first, fur colour second…We don't judge you humans with your different head fur or lack or it.
I was very worried when Ruby the Shitzu came into rescue in March. She was very fur matted, malnourished and a very anxious little canine. Only a few weeks later, with a lovely retired couple as fosterers and Pero Truline Meat and Fish, Ruby has blossomed into a happy little dog and put on weight from 4.3kg to 6.6kg. Just look at her photos! RUBY RUBY RUBY!!
Woof for now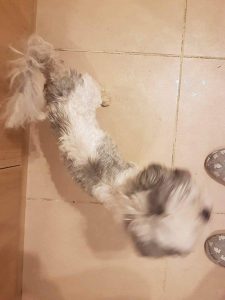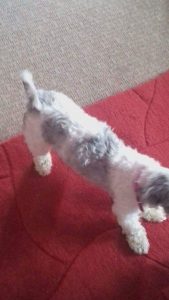 Ruby's before and after! (Fed on Truline for 2/3 weeks)